Maui Budget Cars
by layne odonnell February 14, 2020
For the last 6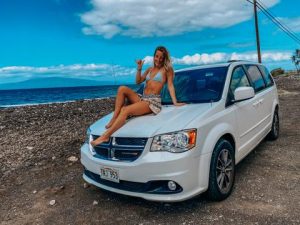 weeks, I've been cruising around Hawai'i.(I know right? Life is pretty rough 😉  I visited both Oahu and Maui during this time but for this blog, I'll be focusing on Maui.
Maui is my home away from home, it's full of Canadians, this was my 4th visit and definitely not my last!
Every other visit I've stayed for two weeks and stayed in condos all around Kihei.
This time was a bit different. It was shorter, 10 days rather than 14, I was alone for half of that time, then my sister joined me for the last 5 days, and we slept in our minivan! We'll talk about how my mom took this later!
At first, I was kinda sad I "had" to sleep in a van and wouldn't be able to shower, or have wifi, or any of those luxuries 😉 but when the time came and I was in my little Dodge Grand Caravan with my full-size mattress blown up in the back, windows open,  parked on the beach,  listening to the waves, it was soooo much better than staying in a condo!
Not to mention I saved soooo much money not renting a place. The average place in Kihei in February is around $400cad a night! That would have been about $4000 for my trip!
The van was honestly awesome. I had all my stuff with me all the time, never had to pack a bag for the day, if I wanted to nap in the middle of the day on the other side of the island I had my bed right there with me! But the very best part was I ALWAYS HAD THE BEST VIEW ON THE ENTIRE ISLAND! I spent many afternoons parked at a beach, with the hatch open, watching the Humpback Whales breech a few hundred metres off shore. I have tons of videos of them doing that! You could hear them slapping their fins against the water. On one occasion I saw a mom whale teaching her baby how to breech. They were right in front of me for almost an hour, just playing in the water! It was unbelievable.
I had a little cooler, a basket for pantry food and both my suitcases fit in there with me (oh plus two floaties)
When my sister joined me halfway through, it got a little crowded, but we made it work. We went all over the island too. Paia, Lahaina, Kihei, Kaanapali, big beach, Walmart about 10 times and Ulta too! I filled the tank twice. Once on day 6 and again the night I returned the car at the airport.
Enough about how awesome van life is, let's talk a bit about the rental company now.
I've rented from them on previous trips to Maui and they are always amazing.
They pick you up as you walk out of the baggage claim. They make everything super quick and easy and show you how the car works. They have the papers ready to sign and then boom! You're ready to drive off.
They also make drop off super easy. You park the car in the airport parking lot, then you follow the simple instructions they send you (via text or email, your choice) and you're good to go to catch your flight.
Their customer service is also amazing. I messaged them one day because one of the back seats seemed to be a bit stuck and they got back to me right away, I took the car to them, and within 60 seconds it was fixed and I was headed back to the beach. After watching them sort the seat, I realized that it was me, and not the seat, that had an issue. Ha ha. I will definitely be back to Maui and when I do I will definitely be renting a car, Jeep, or minivan from Maui Budget Cars.
Check them out on Facebook, and Instagram!
PS: I'll be sharing a ton of photos soon!